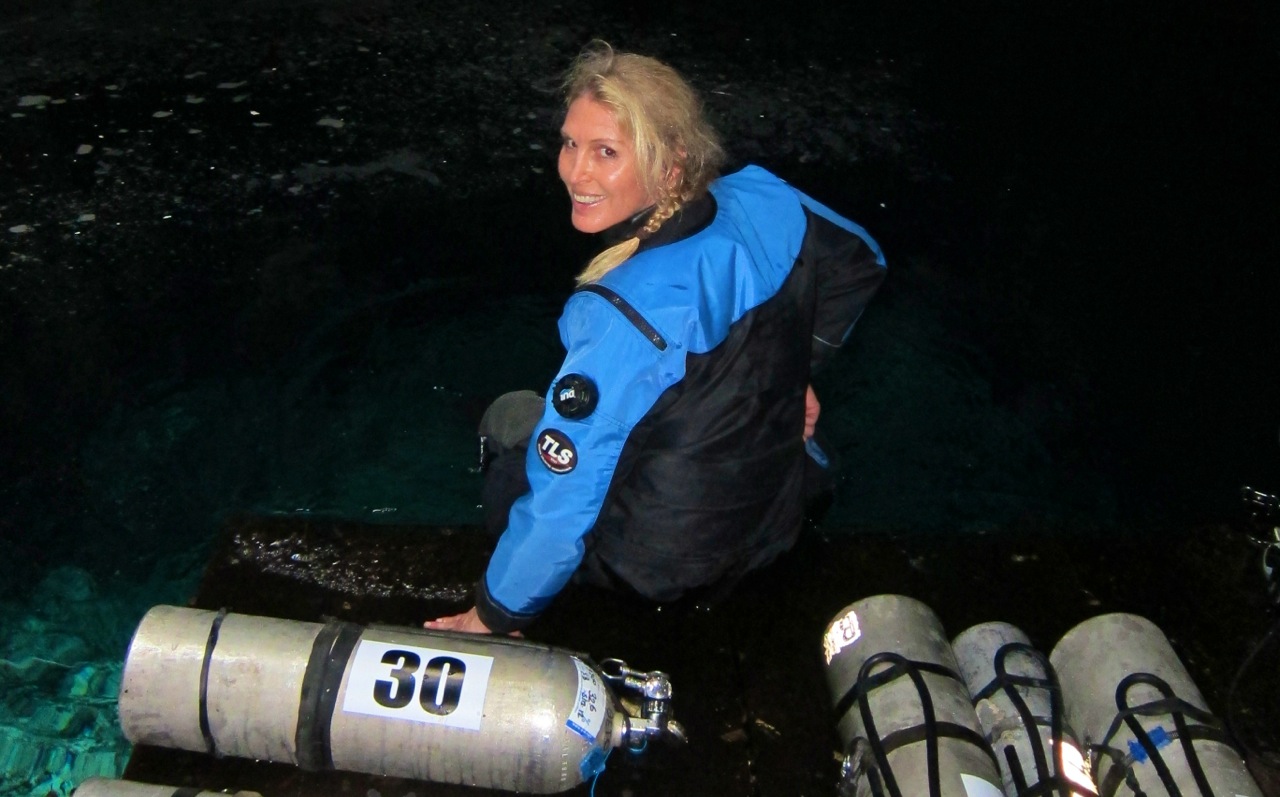 Home at Last, from South of the Border
I have just returned home from my 4th trip to Mexico this year to work as a cave diver on the Hoyo Negro Project.
Since the discovery of the site in 2007, I have been a core member of the Hoyo Negro Team. Our purpose is to document, map, and protect this important underwater cave system which lies in the jungle of the Yucatan Peninsula.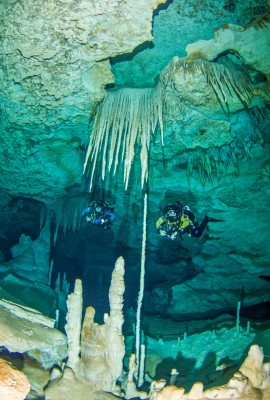 What is Hoyo Negro?
Hoyo Negro means 'black hole' in Spanish, and the site lives up to its name. HN is a completely submerged sink hole that is the approximate size of a football stadium.
To dive there, we enter the water at a cenote (an exposed water hole) and swim through shallow, completely flooded tunnels that snake underneath the jungle. The tunnels eventually flow into this massive black pit. Aside from its structural uniqueness and inherent beauty, this cave is the final resting place of the remains of a number of prehistoric animals including an ancient human.
The site is presently closed to the diving public and is accessible only with a science permit issued by the Mexican governmental agency overseeing underwater archeology, the Subdireccion de Arqueologia Subacuatica of the Instituto Nacional de Antropología e Historia. Unfortunately INAH has found it necessary to restrict diving at Hoyo Negro after careless divers caused irreparable damage to several of the remains.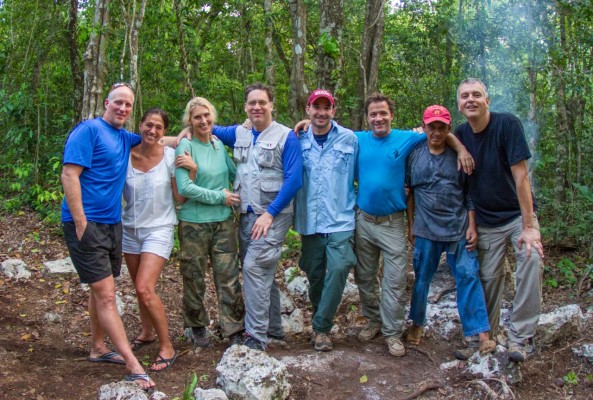 Support and Recognition from National Geographic, The Waitt Institute, and INAH
For the first few years, our work within Hoyo Negro and the adjoining tunnels was entirely self-funded. Fortunately our team is now receiving support and funding for our endeavors from various sources including National Geographic, the Waitt Institute, and INAH. We are grateful to these organizations as well as to the private donors whose ongoing support is helping to protect this valuable archeological site. If you are inspired, you can help protect Hoyo Negro too!
During the June 2013 field season we had the pleasure of working with Nat Geo staff photographer Paul Nicklen. It was awe inspiring to be in the presence of a true master of his art. Paul's magical images of our site and work will be published in a future edition of the magazine.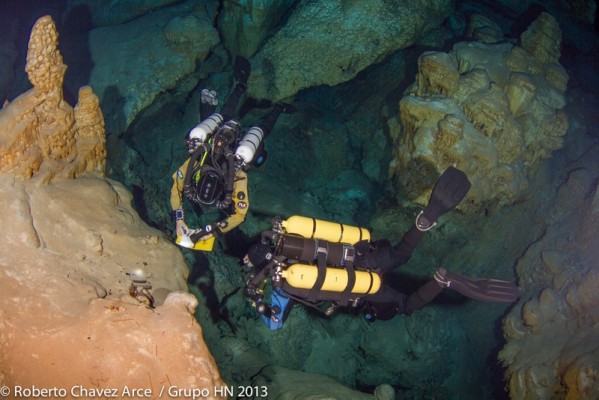 A Busy Year!
This has been by far our most demanding year of project work as divers. We have conducted four 'field seasons', each lasting from 9 – 21 days. Our tasks have included a wide range of activities including photo and film documentation, sampling of organic materials, surveying, and preparation of the cave for future study. Our team is presently in the process of taking formal measures to protect the archeological site from unauthorized divers.
As of this year, all of the diving in the deeper sections of the cave (110 – 170ft) is being conducted using closed circuit rebreather technology to protect the cave from damage due to bubbling associated with open-circuit diving. The CCRs have allowed us to extend our bottom time at depth and in the shallow tunnels, so we have been able to accomplish more project objectives on each dive.
An International Team Endeavor
Our core team of four divers has expanded over the years to include volunteers who have helped with our numerous activities. The project has been an international effort involving diver represent-atives from Venezuela, France, Canada, the Netherlands, Australia, Singapore, UK, USA, and of course Mexico. It has been an honor (and a lot of fun!) to be a part of this collaborative and global endeavor.
Each of the divers on the team is required to multi-task to support all of our project objectives. However we also have specific roles which make the best use of our talents and capacity.
My talents have to do with precision buoyancy control and the ability to handle delicate objects with utmost care. In a sense, I have become a human-ROV for our science and research team. I receive instruction and guidance from our lead paleontologist, Dr. Jim Chatters, on how to perform intricate tasks needed for him and other researchers to study the site and the remains.
I also offer a spiritual orientation and practice to our project work. On every dive into the pit, we are literally surrounded by the spirits of animals and the human whose remains lie within this underwater tomb. Though they walked the planet thousands of years ago, their spirits are still alive within the cave. With this in mind, I perform my tasks with a sense of reverence in appreciation of the cave as a sacred site, consciously transmitting love and gratitude to the spirits of those who rest there.
Our project diving tends to be extremely physically and psychologically demanding. Once we enter the cave system, there is no direct vertical access to an air source at the surface, so we need to plan and be mindful of our gas supply. We are diving within a pitch black environment, completely dependent upon the artificial lighting we carry with us. Our dives are typically 2.5 – 4 hours in duration, and we perform a multitude of tasks on each dive. Since we are exceeding recreational depths and time limits, we are required to fulfill a decompression obligation on every dive.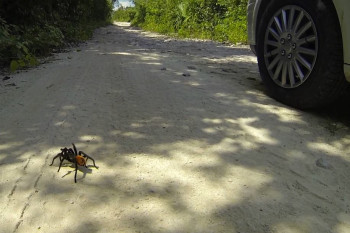 The cave is located in the heart of the jungle which is typically hot, humid, and often teeming with stinging insects. When the site was first discovered, we had to hike and carry gear into areas of dense and untamed jungle to our points of entry. These days we are able to drive nearly all the way to our site along a dusty, bumpy road that was bulldozed through the jungle. However, the last ¼ mile still requires the use of a 4-wheel drive vehicle which we use to ferry in our gear while divers walk to the entrance of the cenote.
Our dive days are long, hot, and itchy. It takes hours to plan and set up gear for the dives, and we regularly experience delays due to complications with gear. Many of the practices and techniques we are executing as part of the project have never been done before in a submerged cave setting. With the help of our science and archeological advisors, we are literally writing the manual on how to do much of the work.
At the completion of the dives, we disassemble and haul gear out of the jungle. After a quick dinner, we conclude the day by logging our activities and recording data that was collected. We dry our gear and do preliminary planning and preparation for the following dive day.
To sum it up, our project work is interesting, diverse, engaging, and exhausting.
What I'm Learning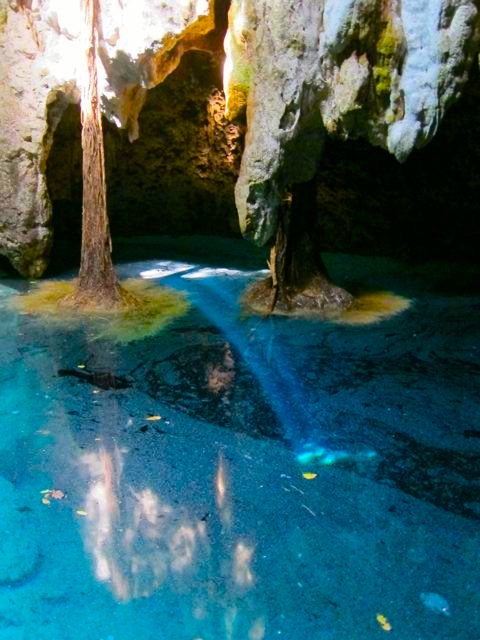 I'm a dolphin-spirit at heart, not a woman of the jungle. The heat, bugs, gear-intensive nature of the activity, and complex logistics make this kind of diving a true challenge for me. Once I'm in the water I'm 'in my element', however the diving can be stressful due to the intense level of focus and precision required to execute delicate tasks. The stress level is elevated by the fact that making a mistake in this environment can mean the difference between life and death. Also, the extended duration of the dives and the exhaustive schedule of consecutive days of diving take a toll on my physical body.
In other words, Hoyo Negro has provided a fabulous training ground for pushing my personal limits. My work as a volunteer on this project has taught me a great deal. I have developed capacity as a technical diver and have learned about archeology and paleontology as result of hands-on experience. More importantly, I have had the opportunity to cultivate a number of character qualities.
The project has forced me to develop extraordinary patience, exercise perseverance in the face of extreme discomfort, and deepen my ability to go with the flow. I have learned to control my emotions, focus my attention, and work through exhaustion. I have gained greater insight into the psychological and physiological responses that are triggered when I work under stress and push past personal limitations.
I have been challenged to maintain my spiritual focus while performing intricate tasks at depth. This has required the simultaneous management of multiple distractions, like following the dive-safety practices needed to stay alive. For me this has been an expression of spirituality in action, offering the ultimate opportunity to practice moving meditation!
Finally, I have cultivated a more fluid understanding of the larger rhythms of life. This project has pulled me away from my healing and cetacean work, from my 'life calling', for long periods of time. I am learning to relax into a broader life rhythm, trusting that the Universe is directing me to be where I am meant to be at all times, as I expand into additional expressions of my life purpose. I am using the rich potential for personal growth gained by my experiences in the Yucatan to inform my healing practices.
What Keeps Me Connected to the Project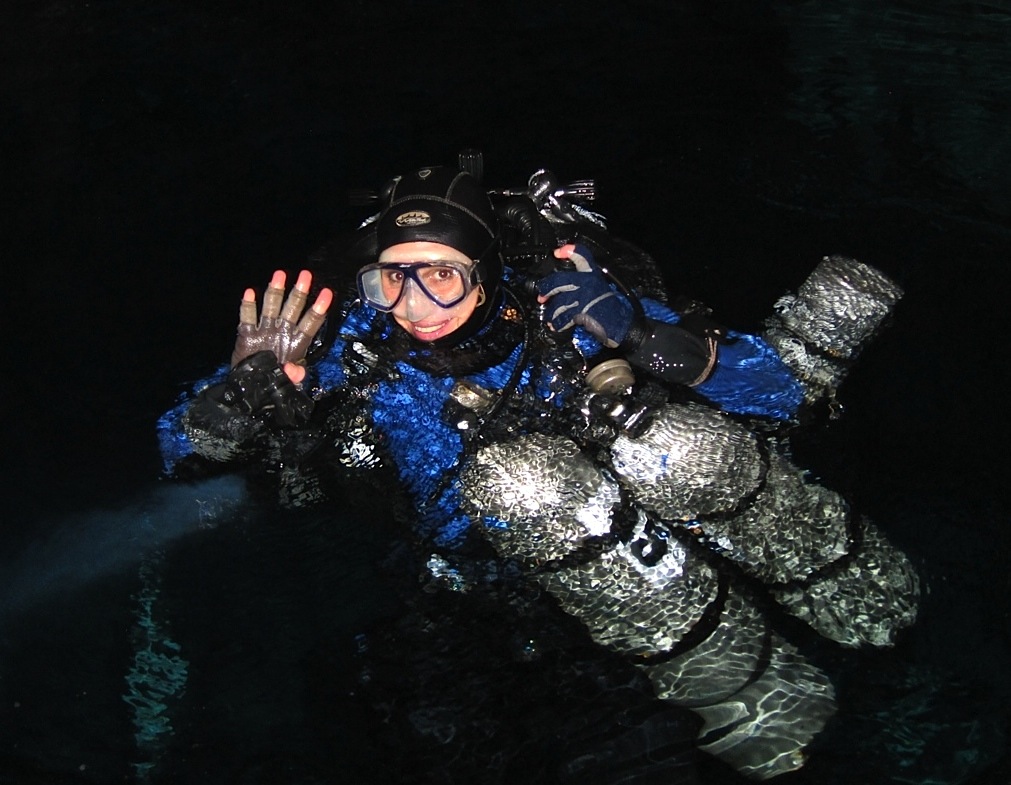 Working on the Hoyo Negro Project has been an honor and a privilege. This has truly been an opportunity of a lifetime. However, as strange as it may sound, cave diving is not my passion. The project is fascinating and engaging in many positive ways, but diving in caves is not what makes my heart sing. In truth, I'm all about the cetaceans.
So what is a dolphin-spirit doing in a cave? Well… Hoyo Negro is not just any cave. It's a spectacularly beautiful sacred site, rich with spiritual energy. I'm drawn to the energy of the ancient animals who once roamed the Yucatan Peninsula and who now inhabit the cave, particularly the large cats. More importantly, I feel a special connection with the human spirit whose remains rest in the cave. I believe that we have a 'soul contract' that we are in the process of fulfilling. She is the focal point of my attention, and I remain devoted to the project as long as she requires my loving care.
I am not at liberty to divulge more information about the project and the human at present, but I look forward to sharing the profound impressions I have experienced while working with her when the time is right.
In the meantime I am extremely grateful to be a member of the Hoyo Negro Team, and I am also very happy to be home!