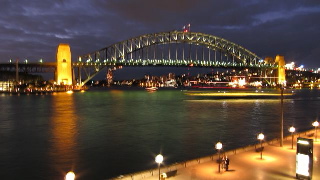 Sydney in Style
After a fortnight in a small cabin on a boat, we decided to go upscale for our brief stay in Sydney. I booked a room at the Four Seasons Sydney, where we had a spectacular view of Circular Quay. From this prime location, we were within easy walking distance of the Opera House, the Botanical Gardens, and numerous waterfront restaurants and shops. 
We spent two glorious days strolling, talking, and percolating our recent minke whale experiences while enjoying the delightful sights, sounds, and tastes of beautiful downtown Sydney.
Bats, Birds, and Botanical Gardens
Each morning, we walked and ran the paths at the Botanical Garden, listening to the loud cackling of lively cockatoos as they danced and played among the trees. We bravely ventured under canopies of fruit bats, then headed to the outer perimeter of the park along the harbor to breath in the freshly rain-drenched air.
Light in the Harbor
In the evenings, we contented ourselves with simple snacks at outdoor cafes, overlooking the spectacle of the busy harbor and the Opera House. Circular Quay is truly one of the most picturesque and stunning ocean-front city locations in the world.
We did some shopping for friends at the weekend Arts & Crafts Fair, and I visited the Crystal Gallery to make my final choices of the power pieces to bring home.
Allowing the Crystals to Choose Me
The two week immersion in minke whale frequencies had altered my energy body. So, as I walked through the crystal shop, I allowed Spirit to guide me to the stones that matched my re-calibrated resonance. I scanned the shelves rapidly, as the soft energetic waves of the different stones and their varied frequencies washed over and through my aura.
The Ocean, Universal Light, and the Angelic Realms… Embodied in a Stone
I stopped in front of an impossibly gorgeous blue stone that reminded me of the ocean. Unable to take my eyes off of it, I asked Maria (the owner) to open the case so I could hold the small cabochon. The moment she placed it on my left palm, I felt a jolt of electrified energy shoot up my arm and through my mid-line, causing my primary chakras to instantly re-align.
My heart through 9th centers experienced a sudden, pronounced amplification of vibrational resonance. As my throat chakra opened, a sense of sublime peace flooded my body & spirit.
I learned that this potent healing stone is called Quantum Quattro; it is a rare and 'newly discovered' gemstone found only in Nambia, Africa. I was told that the stone connects us with the Angelic realms and assists us in living firmly within our truth without interference from negativity. I had to laugh… this was the perfect synopsis of my learning experience on the minke trip!
In researching the stone, I learned that Quantum Quattro has the ability to align all of the chakra points within the body as well as those above and below the astral body. It enhances the immune system and works within our DNA structure to re-polarize and magnetically open all channels to directly access Universal healing light. The stone facilitates mental clarity and spiritual insight into the angelic and earthly realms, in a non-judgmental and peaceful manner.
It is believed that Quantum Quattro was revealed to us now as we approach the year 2012 and enter the Mayan 6th World. It truly carries an Angelic and otherworldly frequency.
Meeting the Miracle Stone
I carried the gem with me while exploring several other new & fascinating stones. Maria watched as I perused the aisles, and finally insisted on introducing me to Shungite, which she described as a 'miracle stone'.
Shungite is a unique coal-like mineral that was formed 2 billion years ago in northern Russian. It is composed of nearly all of the elements of the Periodic Table and is the only mineral that contains a carbon molecule called a Fullerene.
Fullerenes were discovered only recently (in 1985) and are found in very minute quantities in nature. These molecules are usually formed by lightening strikes. Their presence in Shungite is a mystery, and may contribute to its unprecedented healing abilities.
Shungite is said to restore and concentrate all health promoting properties within the body, and to absorb and eliminate everything that imposes a hazard to living organisms. It is particularly effective at shielding geo-pathogenic radiation from the environment and the electromagnetic radiation we are exposed to as result of modern living.
Maria asked me to sit while she placed a rough, polished piece in one hand and a Shungite pyramid on top of my head. I felt an instantaneous and palpable sensation of 'balance' within my physical body, as though I was being grounded by an… earthly force. I knew immediately that this stone would be helpful to myself and my clients in our processes of healing and transformation.
I acquired several pieces of Shungite, as well as the Quantum Quattro cabochon, to be used in meditation and for healing purposes. The smoky quartz piece I had admired before the minke adventure had been sold– it had served its purpose, and I was thankful for its assistance as a remote touch stone.
Thank you Sydney, GBR, and Minke Whales
With stones in our bags, smiles on our faces, and love in our hearts, we departed Sydney, grateful for a plethora of rich and memorable experiences.