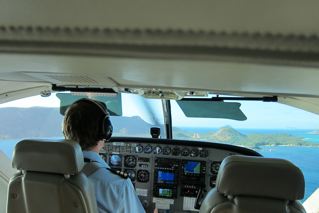 Off and flying
Early the next morning we met our lovely trip facilitator, Linda Rumney and our fellow minke-adventurers. We weighed in with our luggage, boarded a small plane, and flew to Lizard Island.
The flight was short and picturesque. We banked away from the mainland of Northeastern Australia, and headed out over the Barrier Reef. We viewed expanses of blue and aquamarine waters, framed by the outer perimeter of the reef. Soon a cluster of 3 islands came into sight and we peeked over the shoulder of the pilot to see our landing strip.
Welcome to Lizard Island!
John Rumney greeted us at the tiny 'terminal' next to the single lane airstrip and escorted us a short distance to the beach for our pre-boat-boarding briefing and tales of the island.
As the excited passengers introduced themselves, we learned that most of the voyagers were from Australia. The only exceptions (besides ourselves!) were a vivacious woman from France and an orca-afficionado from Scotland. Several people were repeat customers, which was a very good sign!
While we waited for the skiffs to ferry us to the boat, we sank our feet into the white, powdery sand and looked for small shells along the beach. Lizard Island is the crown jewel of the Ribbon Reef Islands, and we basked in the peace and quietude afforded by this remote & Heavenly gem.
To Sea
We boarded the inflatable boats and cruised across the small bay to our home for 2 weeks, the Elizabeth E II. We met the amicable crew and settled into our comfortable cabin. The scuba guides helped Beto find temporary rental gear… and (finally!) we were ready to begin our adventure on the Barrier Reef.