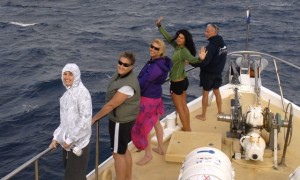 Watching for Whales
Following a blissful night's sleep, we woke up on the second day of our cruise to cloudy skies and a shimmering curtain of rain in the distance. Fortunately, by the time we'd finished breakfast there were patches of blue sky and sunbeams filtering through the clouds.
The crew pulled anchor and the boat began motoring in whale-infested waters. Within 15 minutes, a small group of dwarf minkes were sighted. Beto, John Rumney, & I immediately donned our snorkeling gear and prepared to enter the water to capture the attention of the whales.
At Last… the Moment We've All Been Waiting For!
As soon as the crew had placed the current line, we slipped into the ocean with smiling masked faces, finned feet, and love in our hearts. We gently drifted down the line, grabbed on to the hold-fasts, and waited in quiet anticipation.
Several heartbeats later, five gorgeous dwarf minkes of various sizes and markings approached to welcome us to the Great Barrier Reef! Swimming in choreographed formation, the whales glided towards & under us, encapsulating us in an invisible bubble of cetacean love. Soon the whales began cruising the length of the line to greet more swimmers as they joined the encounter.
Over the next 3 hours, we were entertained by numerous dwarf minkes as the boat drifted freely with the current. The minkes swam in wide sweeping patterns, gliding outside of our range of vision, then looping back to parade along the line within several yards of the snorkelers. Often times the whales would angle perpendicularly towards the line to swim directly beneath us.
The 'original' five whales stayed together for the most of the encounter, but occasionally two would split from the group to swim by on their own. During our drift we were joined by additional friendly whales who were cruising in the vicinity of our boat.
Since the encounter was so rich and the whales so plentiful, the crew put out 2 current lines to allow ample room for everyone to experience the minkes. The relaxed & curious whales generously visited snorkelers on both lines, making sure we all had our share of poignant eye-to-eye connections.
The encounter concluded when our boat drifted into rougher seas and for our safety, the captain pulled us out of the water.